JUMP, Jefferson St. United Merchants Partnership, has kicked off a DRIVER LICENSE REINSTATEMENT PROGRAM.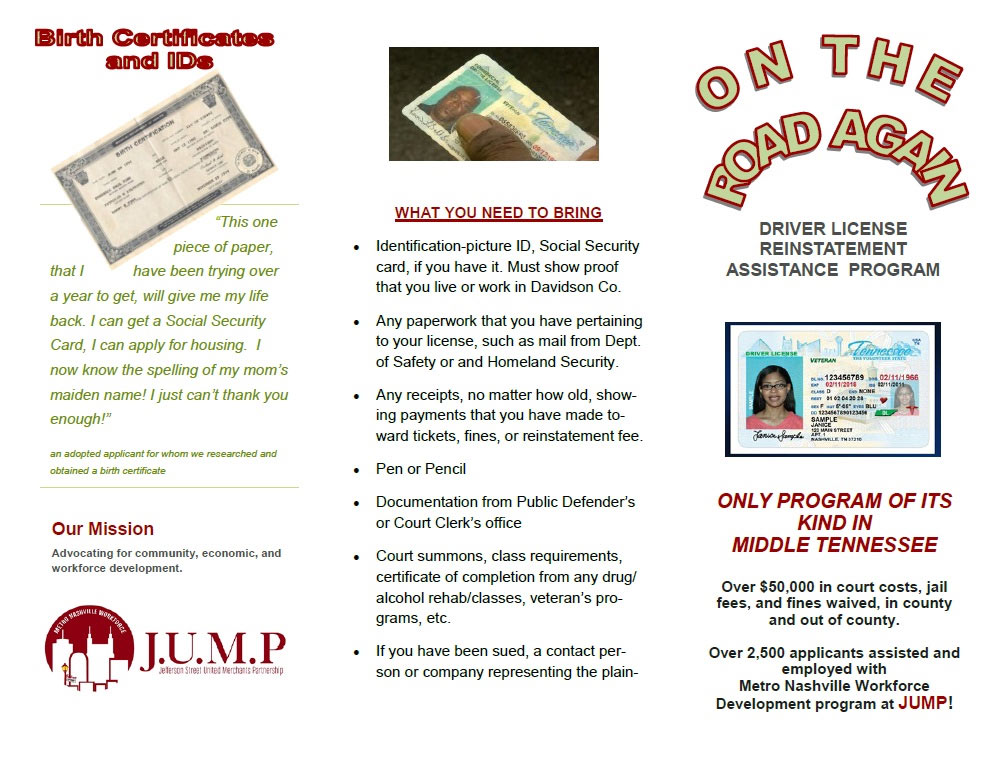 In 2013. JUMP Workforce staff quickly realized that many jobs require a driver license, even if the job does not require driving, such as housekeeping and banquet service, and that lack of a valid driver license was a huge obstacle to obtaining employment, as many of our applicants did not qualify because they did not meet the minimum requirement of a driver license.
Nashville, TN (May 4, 2015) – Davidson County residents can now sign up for workshops to get assistance in helping to restore their suspended, cancelled, or revoked driver license through a new program. Driver License Assistance Seminars are held on the following days. PLEASE DO NOT CALL THE OFFICE FOR ADDITIONAL INFORMATION. YOU MUST COME TO ONE OF THE CLASSES, AND WE CANNOT HELP YOU OVER THE PHONE. Please call ONLY if you need a separate appointment because you are working during these hours at 615-256-8990 or 615-726-5867.
WEDNESDAY – 3:00PM
FRIDAY – 10AM
You must arrive on time to the classes because we close the classes at 5 minutes after the hour or when the class gets full, whichever comes first.
WHAT YOU WILL NEED TO BRING:
PICTURE ID
SOCIAL SECURITY CARD (if you have one)
RECEIPTS OF ANY PAYMENTS THAT YOU HAVE PAID ON TICKETS OR COURT COSTS (if you have them)
Since the program's inception, JUMP has already assisted over 400 clients by referring applicants to appropriate agencies to get fines and fees waived or reduced (over $100,000.00 waived, so far), assisting with paperwork and filing pro se motions, and by helping to match funds for reinstatement fees.
Immediate results have been seen in the program participants.
The excitement about having a second chance in life is evident, as so many people have come through the doors asking for help. JUMP serves its community, and assists Davidson County residents, some of whom have a history of addiction, mental health, housing, background issues, and those recently released from prison. The majority are looking for a new start on life and don't know where to begin. Here, no one is turned away, and everyone is offered some type of assistance.
Currently, J.U.M.P. is working in partnerships with Room at the Inn, Operation Stand Down, Elam Women Mental Health Center, Criminal and Circuit Clerk office, Aphesis House, Welcome Home Ministries, the Traffic Warrant division, Criminal Court Clerk's office, and the Public Defender's office. Anyone can be directed to the program from any of the listed programs, or through word of mouth.
Workforce Development not only helps its clients get driver licenses restored, but also offers numerous services that include helping get traffic citations waived that are over ten years old, assistance on filing paperwork for slow-pay and getting filing fees waived, clearance letters for out of state residents, help obtaining birth certificates and social security cards for persons who were born out of state, advocating on applicants behalf in out of county/state traffic agencies and courts, assistance with obtaining bank accounts, financial literacy, OSHA training, driver license class F endorsement, and more .
The criteria to be eligible for the program is to be a Davidson county resident and have some source of income (salary, disability, Social Security, Section 8, SNAP, AFDC, WIC, etc). If you have no income, you must be participating in a program such as (Room in the Inn or Welcome Home Ministries, Goodwill, etc.), and/or must be able to pay one-half of fee/fines if they cannot be waived.